Image: © Jimenez Rodrigo / ABACA/PA Images
Gun laws, Cambodia, the Pope – 11 to 17 June: What just happened?
Orlando brings gun laws into focus. Cambodia shrugs off $465 million. The pope rejects 16,666,600 pesos...you can guess why. Here's our bitesize review of all the big stories over the last seven days
The tragedy in Orlando highlights a grim economic truth about guns in the US
Over 50 were killed and another 50 injured at the horrific shooting at a gay nightclub in Orlando last Sunday – and the shares of major firearms manufacturers like Smith & Wesson have jumped by nearly 10% since. As the LGBT community came together to mourn the victims and stand united against homophobia and hate crimes, the massacre has brought the issue of the US gun industry back on the table. In a 15 hour gun control filibuster in the Senate on Thursday, Democrats and Republicans agreed to hold votes on expanded background checks and tighter watch lists to prevent terrorists from purchasing guns. How that vote will go is another question: like the jump in share prices shows, the trend in the past has always been that gun violence leads to more people buying guns. In our recent article, we took a look at why that is: basically, the industry controls billions of dollars, 288,000+ jobs, and a lot of political power. It might be that too many people have a stake in this for anything to change anytime soon.
$465 million? No thanks, China's got our back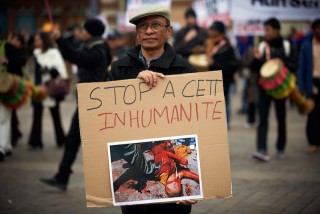 Cambodian PM Hun Sen shrugged off the EU's threats to cut $465 million in aid if the government doesn't improve their human rights record, saying foreign-led NGOs would be the "first to die".  For a country that relied on  to build itself back up after being torn apart by civil war in the 1970s, threats seem like a risky tactic. But it looks like Hun Sen is tired of the conditions that Western countries impose on aid receivers, and plus, he's now got a new friend to turn to for funds: China. They're investing $5 billion in Cambodia between 2013 and 2017 alone, helping the country bolster their military and build infrastructure that will help kickstart more long-term development. More importantly, says Hun Sen, they've "never ordered Cambodia to do this or that." That's not quite true: there are political conditions attached to China's aid money too, like staying on their side in territorial disputes in the South China Sea – but that doesn't seem to bother Hun Sen too much. China is putting more and more money into aid and investments in developing countries around the world, and given the amount of money they've got to spare, it looks like the EU is going to have a tough time upholding its moral threats when countries can easily turn to China for grants with less small print.
$150 for a dozen eggs?! Venezuela's economy gets more and more desperate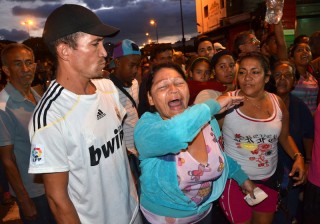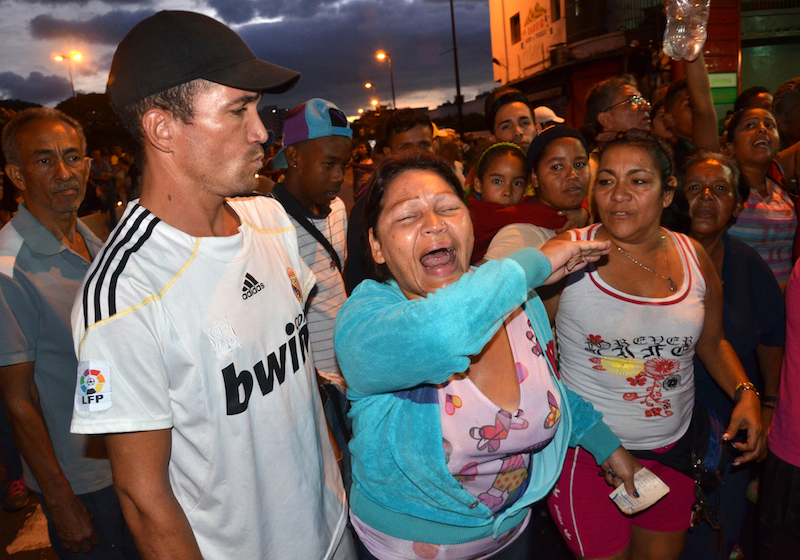 Venezuela's economic situation is getting totally out of hand. Five were killed, 30 injured and at least 200 arrested in riots at supermarkets this week as food shortages become impossible to handle. People are queueing overnight with no guarantee of getting what they need, and the things they can find are ridiculously expensive: by some reports, it now costs $150 to buy a dozen eggs. is at 180%, with some saying it could hit 1200% next year: that means that, because the value of the Venezuelan currency, the bolivar, is so low, prices will be almost ten times higher than they are now. What's causing all this?  Most of Venezuela's income has traditionally come from oil, the price of which just won't stop falling at the moment. Plus, the country's wide ranging social welfare programmes under its previous leader Hugo Chavez weren't cheap, and combined with the fall in oil prices, the country is quite simply running out of money. As things get more and more desperate, tensions between people and the current government are running high: as put by one former Chavez supporter, "Behind all this is the president, the rat in his palace, eating riches while we fight to buy pasta."
Campaigners take to the seas and shares drop £100bn as Britain gears up for Brexit vote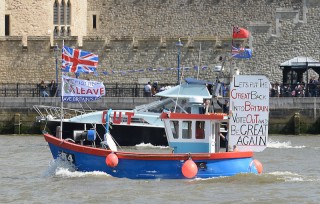 The UK is getting ready for possibly its biggest political (and economic) decision in a generation, with people preparing to vote in next week's referendum on whether to leave the European Union. It's all been kicking off this week with rival flotillas on the Thames, warnings of financial crisis for British citizens by Chancellor George Osborne, a fall in the value of sterling, and some £100 billion wiped off the value of shares on the London Stock Exchange. As if that wasn't enough, the Bank of England (the UK's ) has warned that the possibility of Brexit poses the "largest immediate risk" to global financial markets. This week, it's looking like the Leave Campaign is ahead, with one recent result showing that 53% want to say auf Wiedersehen to the EU. The economics of the situation remain as blurry as ever, with Remain saying families could be £4,300 worse off after a leave vote, and Leave saying the UK loses £350 million to the EU every week. No one seems to believe what anyone says, with the result that confusion reigns and the only thing left to do is get on a boat, hoist a big flag and drive up and down a river shouting loudly at one another (seriously – watch the video.) Here's to one more week of madness, and then who knows what?
Former owner of UK retailer BHS Philip Green says he'll 'sort out this mess'. Let's hope he means it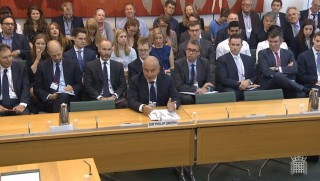 Sir Philip Green, who sold UK retailer BHS for a grand total of £1 to someone with a questionable financial record and very little retail experience, faced a parliamentary hearing on Wednesday over how exactly the retailer got into so much trouble. He's got a lot to answer for: the company has a $571 million deficit, 20,000 members of the BHS pension scheme are likely to lose 10% of their savings, and 11,000 jobs are at risk. He's vowed to 'sort out this mess', but managed to avoid giving any further specifics as to how exactly he's planning on doing that. Meanwhile, the tens of thousands of people affected by this saga who don't have billions of dollars of their own to fall back on are in serious financial jeopardy: our piece last week questioned why it is that we never really hear from them in media coverage in any meaningful way.  Considering the fact that 80% of the pension funds eligible for the government protection scheme are in deficit already, it looks like BHS won't be the only retailer to face pension troubles in the near future.
In other news…
That's one pricey Buffett. Fancy a spot of lunch with multi-billionaire investor Warren Buffet? That'll be $3,456,789 please. That's how much one anonymous bidder paid to have lunch with the business maestro at an event he holds each year to raise money for the San Francisco based homeless charity Glide. The auction was held on eBay and this year's prize was the joint most expensive individual charity item ever sold on the site. Six of the past eight winners have paid more than $2m for lunch with Buffett.
No news today, we haven't paid the electric. VBTC, national broadcaster of Vanuatu, an island nation in the South Pacific, went off-air on Monday because of an unpaid utility bill. Apparently, there was a "total blackout" on Radio Vanuatu and Television Blong Vanuatu, causing people to miss the opening of parliament. It's not the first time either. Last year, after the company failed to cough up more $107,000, in unpaid power bills, the same thing happened. Oops.
Goldman Shags? A court in London heard this week that the investment bank Goldman Sachs allegedly hired prostitutes, private jets and luxury hotels to entertain Libyan businessmen in order to win a lucrative deal. The Libyan Investment Authority is now claiming $1.2 billion in damages after they lost money on the trades, while Goldman reportedly made profits of $200 million. The Wall Street based bank is disputing the claim and the case continues.
Microsoft purchases LinkedIn. That's right, Microsoft just shelled out for its biggest acquisition by purchasing LinkedIn - that site you visit once a year to update your job title - for $26.2 billion! New boss Sataya Nadella plans to make the site a news source and platform to share details of your work life. Since the news of the deal broke, LinkedIn has already noticed a whopping 50% increase in its share value.
Steer clear of 16,666,000 pesos, says Pope Francis: it's the donation of the beast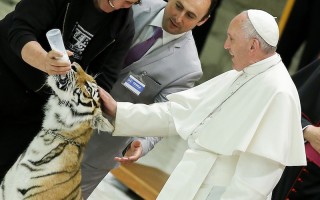 Pope Francis has rejected a donation from the Argentinian government because the amount contained the figure 666 - the number of the devil in Christian belief. Earlier this month, Argentina's president Mauricio Macri gave a charitable gift of 16,666,000 pesos to an educational foundation supported by the pope, who wasn't best pleased about it. He reportedly responded by saying: "I did not like the 666" and ordered the charity to return the cash. So is the Argentine leader in league with Satan? Or was he just having a bit of a joke at the Church's expense? Well, the two men are at odds politically and economically, because the pope isn't a great fan of Macri's austerity policies or the large rises in home energy rates and transport fares, which he believes are disproportionately hurting poorer people in the country. Pope Francis may have been taking a stand, while Macri may have been trying to pull a quick one on the Vatican, especially given the significance of the number, which is traditionally linked to the power of the state. Otherwise, why would someone donate such a specific amount? Either way, the pope has called his bluff and reasserted - at least symbolically - the Church's moral authority when it comes to matters of economics. What would Iron Maiden's Bruce Dickinson say?