Understandable economics?
Because as it turns out, no-one gets it...
In 2016 YouGov asked the UK public if they felt "politicians and the media talk about economics in a way that is accessible and easy to understand".
Only 12% answered yes. 
So, we started a campaign to reclaim what economics is really about – seven billion stories, the lives we lead, and the choices we make. We're calling it "understandable economics".
Excited? Sign up to our weekly newsletter.
What we do
Our work can be divided into three main areas: finding out how people feel about economics, providing a 'stop-gap' of products which represent the change we want to see, and campaigning for others  communicating around economics to do so in an understandable way.
We find out how people feel about economics...
We're researching how people feel about economics through everything from focus groups, to vox-pops, to large-scale polls. We're capturing how people respond to the word 'economics', how they'd describe their relationship to the economy, and what they expect from those who communicate about it.
This research leads us to an understanding of who most needs the work we do (our audience), how we should reform economics (our campaign), and what we should directly offer ourselves (our products).
We create new ways of talking about the subject...
Our website is the place for news and entertainment on everything from food to sport to the big issues. We make sense of the dry stuff in the financial press, bring clarity to the economics of current news stories, and find economics in popular culture.
Our Learn section provides jargon-free explanations of the economic concepts behind our daily lives.
Our Act section offers community resources for anyone who wants to start conversations in their own communities via workshops, quizzes, crash courses and meet-ups.
...and we campaign for understandable economics across the board:
 Our campaign works to influence anyone and everyone communicating about economics in the public sphere to do so in an understandable way. We work with representatives from finance, the media, politics, academia, and education to bring about institutional-level change, providing them with research and recommendations on how to speak effectively with and involve people in the work they do.
Find out how you can create content for our website, help us with our research, or join our campaign.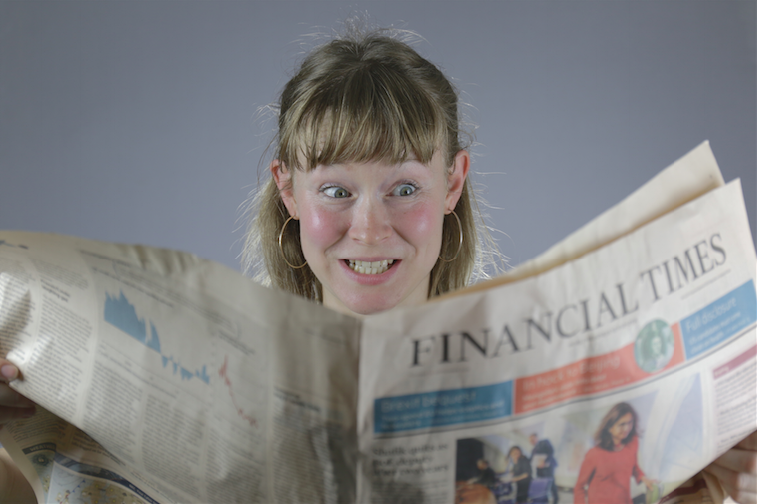 What we're trying to solve
We have an economic literacy problem. Economics is all around us, and everyone is part of the economy. But most people wouldn't say they understand what the economy is, or how they affect it. Only 12% of the UK public feel that those in the media and politics talk about economics in a way that they understand.
Our research focuses on the UK, but we bet you this issue is global. (Want to help us find out?)
Young adults in the UK are least likely to understand financial literature, with just 8% of 18 to 24 year-olds saying they have 'high understanding'. Women, BAME minorities and people from a lower socio-economic background also consistently rate themselves lower in understanding and confidence in relation to financial literacy.
We're not the only ones talking about this - for one thing, the OECD has recently found that only 38 per cent of the UK public understands inflation - something that unquestionably affects everyone's lives.
These figures don't sit too comfortably with us.
A lack of economic understanding among pretty much everyone is, to our minds, a serious problem if we want to say our democracy is working.
We've spoken to people who say their low confidence in relation to understanding the economy makes them less likely to vote. Even among those who vote, a poll we ran just before the UK snap election in 2017 demonstrated that over half of the electorate didn't feel confident that they understood the economic impact of the policies they were voting on.
And yet, it's not like people don't have opinions on how our economy should work. Only 11% of the UK population would say that the current system is working for them. If we're going to figure out what a new system might look like - one that's a little more popular, trusted, and democratic - we need a new way of talking about economics.
Our impact
For us, it's not just about people saying the 'get' economics a bit more - we want to fundamentally transform their relationship with the subject, from something they couldn't care less about or possibly engage with, to something they find truly empowering.
We're aiming for:
Identity: Highlighting the economics in everyday life, for those who feel it has nothing to do with them
Understanding: Demystifying jargon and breaking economics down in simple terms, for those who feel it's unnecessarily complicated
Empowerment: Giving people ways to question and shape economics, for those who feel they can't change it
To find out more information about how we take people along this journey, and how we check our approach is working, take a look at how we evaluate our impact.
Team
Our team (this is us!) is in London, but we've got writers and volunteers working with us around the world.
We're a sister charity of Rethinking Economics, an international network of students, academics and professionals building a better economics in society and the classroom. We exist because members of Rethinking Economics appeared in the Terry Jones (Monty Python) economics documentary Boom Bust Boom in 2014, and approached its producers, Cardano Insights with the idea of doing something bigger - like Economy! So here we are.
With support from our generous donors, awesome volunteers and a growing international community, our organization is built on a spirit of mucking in and building on ideas. We rely on a global network of advisors in media, academia, industry and politics who contribute their time and energy to Economy.
....but we also rely on you! Economy is created for people who want the kind of change we're talking about, and the more of you who join us, the stronger our voice is. Whether you read an article, join our staff or fund our research there are countless ways to be part of Economy.
How we are funded
Economy is funded solely by charitable donations from trusts, foundations and members of the public. See here for a full list of our funders.
If you like what we do, and want to help us keep going... yes please! Find out how to contribute on Donate or get in touch with us for more info. We will love you forever.
Keen to know more?
If you'd like a bit more of a look behind the scenes at the work that we do, download our Information Pack by clicking the button below.
Information Pack
...and here's our style guide and brand guidelines:
Style Guide
Let's stay in touch
Join thousands of other people getting to grips with economics via our weekly newsletter, de-jargoning the news as clearly as we possibly can.