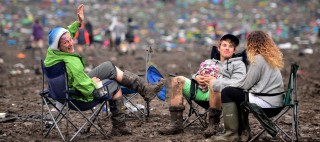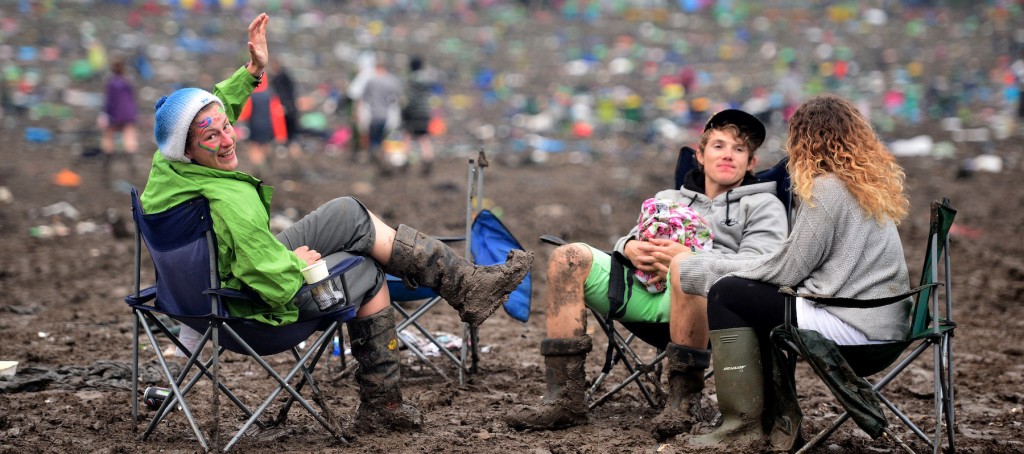 Image: © Ben Birchall / PA Wire/Press Association Images
Glitter, disco ball, drugs: I decided to keep a record of everything I spent at Glastonbury this year. Here's how it added up
Spending money is supposed to be all about making the right choices. We buy things we think will be useful, or that will make our lives better. Right?
At least that's what certain . So how come I just spent an absolute fortune on sleeping in a field, getting extremely muddy, and very hungover for five days? One word: Glastonbury - where sensible decision making goes out the window!
As a former economics student and lover of festivals, I really enjoyed this recent article which looked at whether people thought Glastonbury was worth all the money they spent on it. It made me think about what I'd spent myself while at the festival this year, so I thought I'd come clean and give an account of the kind of economic decisions I made and why I made them.
Oh, I should just say this article has to be anonymous due to the mentions of certain illegal substances, but also because I don't want my Mum to know just how much I spent!
So, here goes...
4 October, 2015
£50 on a deposit for a ticket
Such a stressful morning of just sitting, clicking refresh every 30 seconds on the ticket website. Managed to get through after just 20 minutes. A couple more incredibly tense minutes later and I'd paid my deposit, just 10 minutes before the festival sold out. That was £50 already spent, with a whole nine months until the festival. The rest is due in April.
Total so far: £50
1 April, 2016
£178 - remaining balance
£5 - booking fee
£7.75 - transaction fee
£5.25 - refund protection
The line-up has been released. Electric Light Orchestra are playing the Sunday legends slot, and with back-row tickets for their comeback tour costing £55, I could already justify a fifth of the ticket price. With all the bands announced, you can work out the cost of individual tickets to all the acts you could see, and tell yourself Glasto's an absolute bargain! "No way could I afford to go and see ELO, Adele, Tame Impala, Muse, Disclosure and Bastille all in the same year…" Never mind that most of them are clashing, there'll be plenty of other stuff on that I wouldn't be able to afford to see either. There was also an option to buy a £10 re-useable water bottle; I decided I'd bring my own and subsequently congratulated myself for being so thrifty!
Total so far: £246
31 May, 2016
Last year the coach was a cheap and easy option; this year I'd left it too late to book and return travel was getting close to £90. Train tickets, on the other hand, were coming in at £75. A long time was spent deliberating whether a £15 saving was worth the stress of fighting for a seat on the three trains I'd have to catch with hundreds of other muddy and hungover people, all piled high with rucksacks, tents and camping chairs. Nah. Coach it was.

Total so far: £330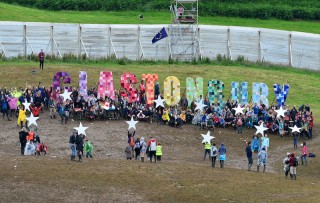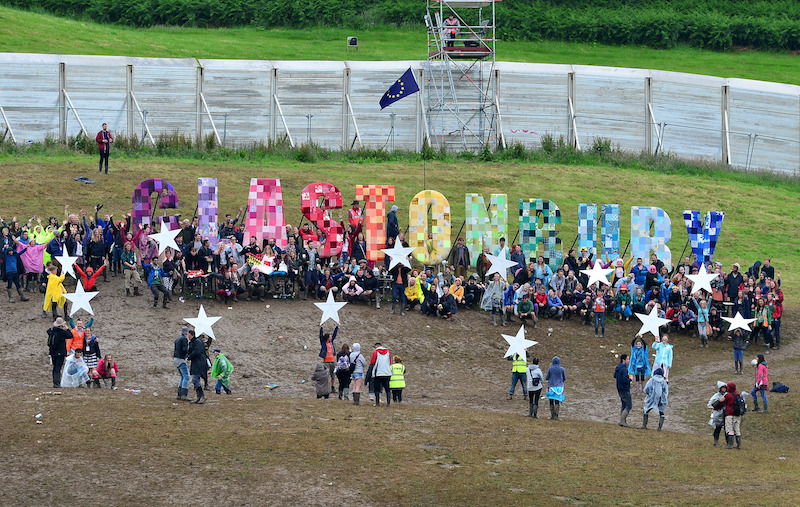 3 June, 2016
£35 - tent
£10 - disco ball
£2.50 - umbrella hat
£5 - sunglasses
£3 rain poncho
I decided not to go all out with the fancy dress, having spent so much money already, but I didn't want to turn up to ELO with only a bit of glitter on my cheeks. As their latest album cover is a picture of a spaceship, I wanted to go space themed, and thought a sawn-in-half disco ball, turned into a spaceship-style hat, would be both fun and thrifty. Ebay. Tenner. Sorted.
The weather forecast had also taken a turn for the worst and previous experiences of very soggy festivals taught me that a good rain poncho and a waterproof hat are well worth the investment - the umbrella hat also looks pretty funny and hilarious headgear always adds to the festival spirit.
Also, with my tent having proved to be no longer waterproof at a festival last year, a new one was absolutely necessary. I could have bought a bottle of re-waterproofing spray for less than a tenner, but if it didn't work like last time, the absolute misery of spending six days in a soggy tent would have been too great - being risk averse, rather than loss averse, I decided to buy a new tent.
Total so far: £385.50
15 June, 2016
Ssshhhh. An expensive part of any festival, but an essential one. I felt much more sorry to be parting with £84 on a bus ticket than I did to spend £75 on two grams of ketamine and a gram of MDMA! In some ways I also felt like this purchase didn't really count. Being part of the 'dark economy' it may now be recorded as a contribution to GDP, but it certainly won't be recorded in my bank account!
Total so far: £460.50
20 June, 2016
£8 - glitter
£3 - face wipes
£6 - welly socks
£4 - camera
A few last minute essentials. I couldn't possibly go without glitter, and given that I'd be dousing myself in it every night, I needed face wipes to take it all off. Welly socks were also essential to avoid the dreaded 'welly rash'. Inexperienced festival goers can be identified by the red welts on their calves, caused by only bringing socks long enough to cover your ankles, and therefore having nothing to protect you from the all day chafing of rubber on skin. Urgh!
I also bought a second-hand film camera. Having wasted a lot of money on disposables over the years (I didn't want to take my digital camera or smartphone, just in case I dropped either of them in the mud, or worse, down a portaloo, when I was a bit worse for wear). I thought this option would give me better photos, for half the price. Unfortunately, when I got home I found out that the film it requires had been discontinued years ago, so ended up borrowing a friend's sister's anyway. That's £4 I could have spent on more drugs!
Total so far: £481.50
21 June, 2016
£60 - food & booze
£8 - cigarettes
£1.50 - anti-bacterial hand gel
£10 - taxi to coach station
I spent £60 on as much food and drink as I could carry, so I'd at least save some money while at the festival. Being able to carry it, along with my rucksack, tent and camping chairs didn't quite extend to getting it on the bus, so I dug deep and forked out for a taxi, going for comfort over thrift and starting as I meant to go on...
Total so far: £561
"

After four days of drinking, a slice of soggy cheese and pot of rice pudding just didn't cut it as an effective hangover cure so I splashed out £5 and treated myself to a mac and cheese for lunch.

"
22 June, 2016
£4 - pint of cider
£9 - pie and chips
Wednesday ended up being a cheap day after the coach was stuck in festival traffic for seven hours! The mud had resulted in the caravans and camper-vans having to be towed into the field, which caused a 22-mile jam. Despite the festival contributing around £35 million to the local economy there didn't seem to have been much investment in the roads! It's almost like the festival is a giant social enterprise - with people rich (or stupid) enough to spend hundreds of pounds to party in the fields, underwriting affordable entertainment for the people who put up with their roads being blocked for a few days a year.
Total so far: £574
23 June, 2016
£8 - two pints
£10 - carving a wooden mushroom
£3 - portion of chips
I managed not to buy any food on Thursday (apart from the compulsory portion of chips on the long 4am walk back to the campsite), as the heat hadn't completely ruined my cheese sandwiches just yet. Result! I did however, as a reward for being so restrained in the face of such delicious looking and smelling food, spend £10 to carve a wooden mushroom. It was actually quite hard work, and probably added less to my enjoyment than if I'd spent the amount on grub, but it felt like it was worth it because at least I was going home with something to show for the ever growing hole in my pocket. Even if that thing had no practical value whatsoever!

Total so far: £595
24 June, 2016 (Friday)
£8 - curry
£4 - pint
£3.50 - portion of chips
By Friday the cheese butties were looking a bit worse for wear, so I decided to treat myself to a curry. I still had loads of cider that I'd brought from home, but I thought I'd at least start the day with a cold one. "Why not, I'm on holiday?" I thought – the one justification for reckless spending decisions that mankind is yet to find a counter argument for!

Total so far: £610.50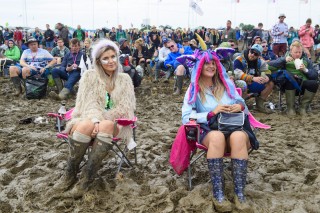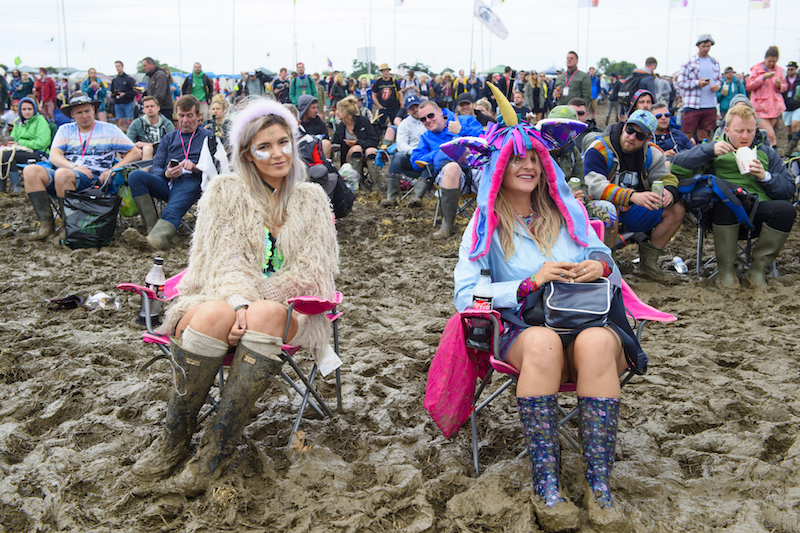 25 June, 2016 (Saturday)
£7 - falafel & halloumi wrap
£12 - three pints
By this point I was starting to get sick of lukewarm vodka and squash, so ended up buying three delicious pints of cold cider. It did seem a waste when I'd nearly a litre left sitting in my tent, but I thought if I had to drink any more of it I'd probably be sick, so I splashed out. The rice puddings I'd brought still tasted great, as did the Babybels, so I managed to get by just buying one meal. I'd come with the intention that if I was going to spend money on food I'd try some of the exciting things on offer, but the ground was so muddy I couldn't face walking further than the nearest falafel wrap stand.
I think the mud probably saved me money. There was a row of shops next to the wrap stand, full of glittery waistcoats, funny hats and other things I would normally think it a worthwhile spend £20 to acquire, but the effort required to drag my tired feet from one rack to other was a huge incentive to just get my wrap and go back to the bar.

Total so far: £629.50
26 June, 2016 (Sunday)
£5 - mac and cheese
£6 - apple cocktails
£12 - pints
£5 - cheesy chips and beans
After four days of drinking, a slice of soggy cheese and pot of rice pudding just didn't cut it as an effective hangover cure so I splashed out £5 and treated myself to a mac and cheese for lunch. It was from one of the stalls participating in the 'food for a fiver' scheme, which was presumably set up in response to people complaining the general cost of food at the festival. As you're trapped inside the site, no use relying on the good old economics of competition to drive prices down, so the people running the show had to and implement a programme to force them down - a demonstration that market forces don't always produce the desirable outcomes. Perhaps if we started sending economists to Glastonbury they'd rethink their position on rent controls!
Total so far: £657.50
27 June, 2016
£6 - service station fry-up
£10 - taxi home
The service station breakfast was also partly justified with the old "I'm still on holiday… just" mantra, but also with "I'm not going to make it home if I don't eat something." It was really saving me money in the long run - if I'd collapsed at the service station my Mum would have had to come and pick me up, and probably would have made me pay for the petrol. I could have spent £1 on a bus back to our house, but by this point I'd already spent so much money at the festival, another £9 felt negligible. I probably could have used that £9, given how far into my overdraft I now was, but at the time, being in my bed 30 minutes earlier felt absolutely priceless!
Final total spent: £673.50