Economy needs volunteers to run our citizens' economics Crash Courses. You don't need to be an expert economist to volunteer! The course includes a minimal amount of maths and graphs, and instead explores knotty questions like- "What exactly do we mean by economic growth and is it a good thing? Why are houses so expensive? Are public funding cuts necessary in tough times?"

In winter 2018/19 we'll be recruiting volunteer facilitators to run our spring/summer 2019 Crash Courses- watch this space for more information. In the mean time,  read about how our pilot Crash Courses went in summer 2018.

What does facilitating a Crash Course involve?
We're partnering with local organisations and community groups to deliver workshops that spark discussion on topics that matter to people. You'll be paired with another facilitator to deliver weekly two hour workshops for six to eight weeks to groups of up to 15 people. Workshops are discussion led and taught through a range of specially designed participatory exercises.
You'll be provided with full training during an intensive two day weekend prior to starting your course. You'll also receive ongoing remote support from our Crash Course Coordinator. The Coordinator will visit each pair of volunteers at least once during the course duration.
Find out more about the Crash Course.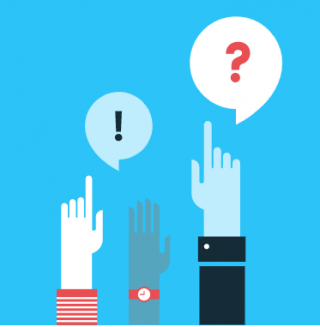 What's Economy?
Economy is a young charity with a mission to make economics more understandable. In 2016, we found only 12% of the UK public felt that politicians and the media talk about economics in an accessible way. We make jargon-free content about the economics issues people really care about. We also work with schools, communities, and economic institutions to make the subject more clear and engaging.
Read more about Economy
Why become a Crash Course Facilitator?
1. Make a difference
Be part of a movement that is making economics education more accessible.
Spark a real world, community based conversation on the economy and economics.
Give people the confidence and ability to voice their views and those of people in their communities.
Turn economics into a tool for participation and citizenship engagement.
Learn more about your local community and make a lasting difference to the lives of others.
2. Up your skills!
Develop your teaching and facilitation skills. We'll give you two days training, plus the experience of delivering the courses themselves.
Improve your ability to work in a team and plan.
Maybe even learn a new thing or two about economics!
These skills and experiences will be particularly helpful if you're looking at a career in education or community engagement.
3. Professional development
We'll happily write references for your future work after you've completed the programme. Become a super-volunteer; help us to improve the content and structure of the course, or recruit volunteers from your own area to roll out another one and help us make it snowball!
4. Wellbeing and making friends
People say that volunteering is great for their wellbeing and health. Volunteer with Economy to swap stories and experiences with people from your community.
When can I apply?
Applications will be open in winter 2019 to run Crash Courses in spring/summer 2019 in locations across the country. Training will take place in spring 2019. Locations to be confirmed.
Time commitments
Six to eight sessions of delivering the crash course - each lesson lasts for two hours and takes place at one of our partner organisations, usually weekly
Regular meet ups in person and remotely with your partner facilitator prior to and during the course to plan your sessions (a minimum of two hours per session)
1 training and recruitment afternoon session
1 training weekend
1 meet-up with your partner organisation.
Who can apply?
The Crash Courses are delivered in pairs. We try to pair up facilitators with some knowledge of how the economy works, with facilitators with teaching/facilitation experience. For the former, this doesn't mean that you have to have had formal training in economics! You might have read around the topic, or maybe you've campaigned on an economic issue in your local area?
We're looking for people who feel they have the strengths below:
Communication and interpersonal skills
Openness and empathy engaging with people from all backgrounds
Enthusiasm and self motivation
Ability to motivate others
Commitment to the values and mission of Economy
Reliability, punctuality and organisation
Good team working skills
Confidence speaking in front of a group of people
Excellent spoken and written English
Openness to various approaches to understanding economics
For all of our volunteer facilitators, experience working with people, public speaking, and working with a diverse range of people, is a bonus.
We also ask that you are available to teach one two hour class per week, for six to eight weeks, and are willing to travel to your course venue. We like to stress that planning for the Crash Course with your partner facilitator does take some time, so please think carefully about whether you can commit to this. Economy will reimburse travel expenses to and from your workshops or training sessions according to our Finance Policy. You must provide us with evidence of your travel to claim. Volunteers attending the training weekend and based outside of the city where the training weekend is located will be reimbursed for their accommodation, or accommodation will be provided.
Please note that your volunteering appointment may be subject to a DBS check. We also require suitable references. All volunteers must be aged 18 or over. Suitable applicants will need to provide proof of identity from the following documents: current passport/Residence Permit, or a UK birth certificate/Government Agency letter. This paperwork is required to meet UK Government Right to Work legislation.
How to apply
Fill in our short online application form.
Have a short chat with us on the phone to discuss your application.
Attend the first training and recruitment session to find out more about Economy and the Crash Course, and to learn some facilitation techniques.
Find out if you've been successful!
If successful, attend the weekend training session.
Meet your partner organisation.
Plan your Crash course with your partner facilitator
Run your crash course!
If you're keen to volunteer but you're not sure whether the Crash Course is the right fit for you, get in touch– we'd love to hear from you. Email us at workshops@ecnmy.org or call 0203 865 7210 to speak to Clare, our Crash Course Coordinator.